Steam Cleaning
The wonder of steam cleaning is how it penetrates deep into fabrics, seeping into even the densest materials. Shampoo treatments certainly use the most advanced chemical compounds, and some truly innovative methods to deliver the chemicals, but no other method can saturate every fiber of a dirty carpet the way steam cleaning can. The reputation of a carpet cleaning service depends on using the best techniques in the industry to restore carpeting to a fresh, like new condition, and steam cleaning does exactly that, reaching dirt so that it can be loosened and washed away. Nothing says clean quite like freshly cleaned carpet, spotless upholstery and gleaming floors.
ServiceMaster currently service's all of Lee County, Cape Coral, North Fort Myers, Lehigh Acres, Sanibel, Captiva Island, Pine Island and Fort Myers. Any average carpet cleaning service can remove a surface layer of dirt and grime, showing a homeowner apparent cleanness, but this is only surface cleanness with oils and trapped dirt still firmly entrenched deep below. A professional steam cleaning company understands that freshness only comes from deep cleaning. A steam cleaning may involve heavier machinery, but one look at the dirty grey water being sucked up, after an infusion of steam and cleaning solution, proves the method has a clear superiority over shampooing.
Carpet Shampooing
The shampoo solution is released from the reservoir of the machine and massaged into the carpet by a rotating brush fixture. The method varies slightly, with different shampoo compounds available from different manufacturers, but care has to be taken not to apply too much shampoo. Release too much of the solution into the carpet and a soapy residue may be left behind after the carpet dries. The residue itself proves to be a magnet for further dirt. A steam cleaning company uses a cleaning machine that is a powerful combination of vacuum cleaner and heated water. The machine is often so complex and heavy that it sits out on a truck while hoses are unwound to apply the steam and cleaning solution. Afterwards, a vacuum hose sucks up the dirty water. Steam cleaning leaves very little residue in comparison to shampooing, and dries far faster. Choose a steam cleaning company for a deep, professional cleaning service that both deodorizes and sterilizes the most soiled carpets.
Recent Articles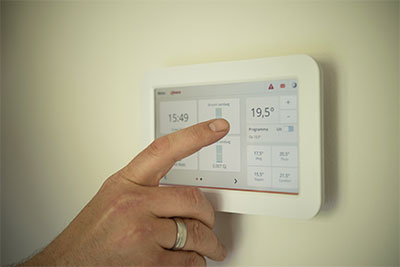 It's no news that the summer season is not yet over in Southwest Florida.  Florida has been known as the summer capital of the United States.   However, it is also known as a place where hurricanes visit due to its geographical location. Those who are heading back to the north will leave their home…
Customer's Feedback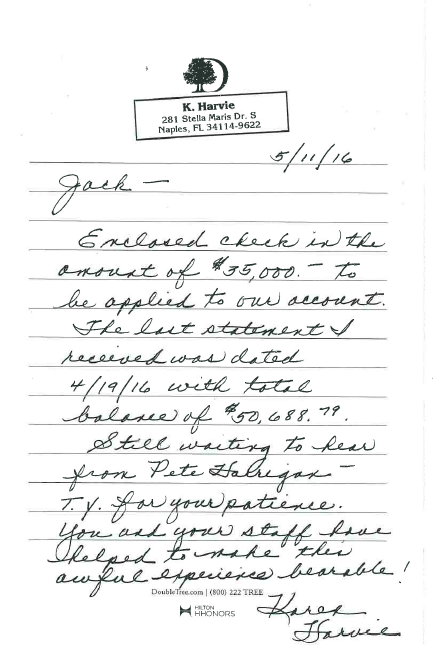 Well.. it has been 3 months since our water damage / mold was discovered, and all in all Service Master has done a great job… Special thanks to Melissa, Kim, Charlie and Michael… they were most helpful in so many ways making a horrible situation become OK again. Melissa helped me when it was a devastating blow to see what all we had lost… and she helped me off the cement when I fell; Kim who helped my friend Sue hang UMPTEEN golf pictures and talked me into many things I wasn't sure of… she did a great job and we are happy; Charlie who promised me someone would be in our condo every day working… and he kept that promise; and Michael who did so many odd jobs and helped out with many, many things and was so pleasant to have in our home….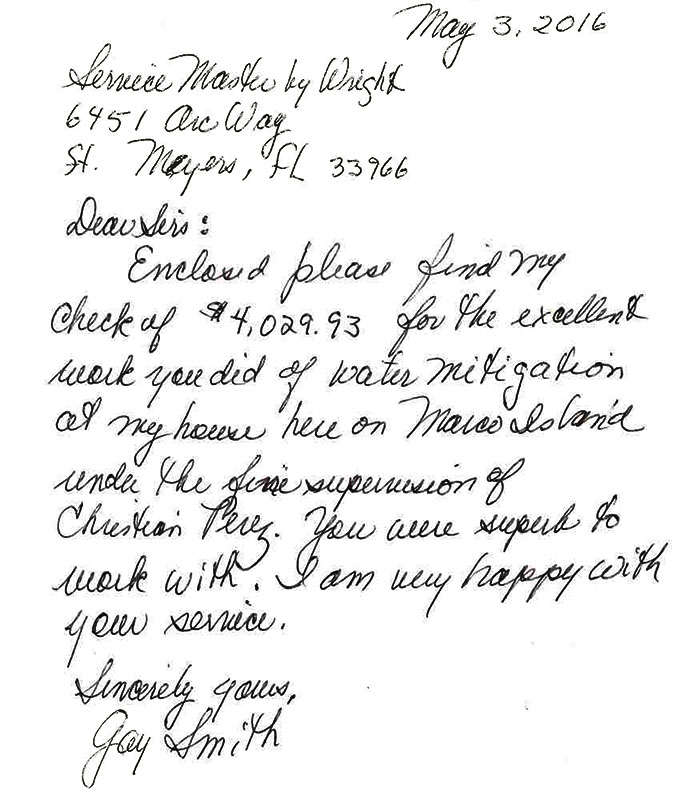 Over the years, I have had the good fortune to establish and maintain a productive business relationship with Service Master by Wright and many of its staff. Their team is responsive, knowledgeable and quick to address customer concerns. The quality of their workmanship is a rarity in this industry. In short, I'm grateful for the opportunity to work with Service Master by Wright, for whom I have a great deal of respect and can feel confident sending my clients too.
Chris Lovell
Certified NACHI Inspector | Allied Home Inspections Pro, LLC
ServiceMaster by Wright is a Proud Member of