ServiceMaster by Wright was called to a home in Cape Coral, FL that was flooded when the toilet tank in the guest bathroom overflowed. Servicemaster went in and extracted the water from the affected rooms, which were the guest bathroom, hallway, two bedrooms, linen closet, master bedroom, and master bathroom. Servicemaster set up dehumidifiers to get the moisture out of the home and and sprayed antimicrobial to disinfect the floors and walls to prevent mold growth. Servicemaster then removed the baseboard to help with the drying of the drywall and to make sure that mold did not grow behind the baseboards. Servicemaster is still working on the remediation of the water damage with the homeowner. After Servicemaster is done with the water damage, Servicemasters construction department will work with the homeowner to rebuild the home back to its original state before the damage.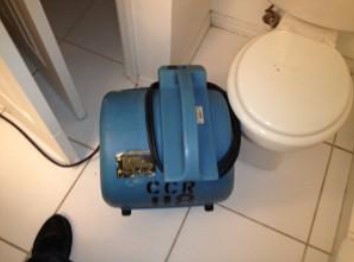 Recent Articles
Congratulations to ServiceMaster by Wright! The company has been selected to receive the ServiceMaster Restore Achiever Award for DR Commercial. They will be recognized for their accomplishment at the 2019 Convention to be held at the Rosen Shingle Creek Resort in Orlando, FL on Tuesday, July 16th at the Achiever Awards Reception from 5:00-6: 00…
Customer's Feedback
Well.. it has been 3 months since our water damage / mold was discovered, and all in all Service Master has done a great job… Special thanks to Melissa, Kim, Charlie and Michael… they were most helpful in so many ways making a horrible situation become OK again. Melissa helped me when it was a devastating blow to see what all we had lost… and she helped me off the cement when I fell; Kim who helped my friend Sue hang UMPTEEN golf pictures and talked me into many things I wasn't sure of… she did a great job and we are happy; Charlie who promised me someone would be in our condo every day working… and he kept that promise; and Michael who did so many odd jobs and helped out with many, many things and was so pleasant to have in our home….
I want to thank ServiceMaster for their prompt response to our emergency situation on Saturday
Hi Jim,
I am writing to tell you about the exceptional service that I received from you employee Gary Burgo, I am a renter at 2930 Esmeralda Dr. in Sarasota. For 4 months that we have dealt with a very challenging mold removal / remediation situation that had us at the end of our rope. Gary was the 10th person sent to assess the situation and as you can imagine that is 9 too many. By the time he got involved we were disgusted and aggravated with the entire process.
From the moment Gary was involved, he communicated with me daily to let me know the timeline of the project and next steps. Gary got more than 2 days than had been accomplished in months. His open communication and professionalism saved the day. Gary even called the day after the project was complete to ask that I let him know if everything was "OK".
Gary was exceptional representative of your company. I sincerely hope this feedback makes it back to him.
Enjoy your day!
Robyn Faucy, M.S.M.
Executive Directory
Neuro Challenge Foundation for Patkinson's
722 Apex Road, Unit A
Sarasota, FL 34240
ServiceMaster by Wright is a Proud Member of