ServiceMaster uses the steam cleaning method to clean carpets. Steam cleaning is the best way to clean carpet, as the hot water extraction combined with the cleaning solution removes dirt more deeply, getting to the root of the problem. ServiceMaster can be hired, which is the better option than doing it yourself. ServiceMaster is familiar with different different carpet materials and fabrics and so know how much water and solution to use and which cleaning solution will best clean the stains specific to your carpet. ServiceMaster is better than home steam vacs because they use truck-mounted hot water extraction unit we use forces the hot water under a higher pressure than the home faucet methods, loosening the dirt more thoroughly and effectively. Another great advantage of the truck mount is that all the dirt and oil that is vacuumed from your carpet is deposited directly in the holding tank so you have nothing to spill or empty after the carpet is cleaned. Enlisting ServiceMaster to clean your carpets, you can expect a faster drying time due to higher powered extraction equipment, and the expert advice for working with different carpet textures and fabrics. The best temperature to steam clean is 150 to 200 degrees F. The hot water is combined with a cleansing solution that scrubs away stains, and then the area is vacuumed to suck away all dirt and particles. Not only is steam cleaning the best method for cleaning carpet, there are many advantages. The high temperature kills bacteria, fungus, dust mites and mold, making the carpet fresh, especially for those with allergies. Steam cleaning does not leave a residue, unlike store bought spray foams that attract dirt and can damage carpet fibers.
Recent Articles
Congratulations to ServiceMaster by Wright! The company has been selected to receive the ServiceMaster Restore Achiever Award for DR Commercial. They will be recognized for their accomplishment at the 2019 Convention to be held at the Rosen Shingle Creek Resort in Orlando, FL on Tuesday, July 16th at the Achiever Awards Reception from 5:00-6: 00…
Customer's Feedback
I thought our meeting with Jonathan, Kim, Diane and you regarding our project was very productive and I believe that the resulting meeting of minds suggests that repair and remodeling should proceed successfully.
On a related subject, I want to recognize the extraordinary efforts of staff members Tony and Melissa. They were very responsive and comforting during the remediation process and, in our opinion, went above and beyond the norm to make me and my wife feel confident about the outcome of the project. They represent Service Master very well.
Hi Jim,
I am writing to tell you about the exceptional service that I received from you employee Gary Burgo, I am a renter at 2930 Esmeralda Dr. in Sarasota. For 4 months that we have dealt with a very challenging mold removal / remediation situation that had us at the end of our rope. Gary was the 10th person sent to assess the situation and as you can imagine that is 9 too many. By the time he got involved we were disgusted and aggravated with the entire process.
From the moment Gary was involved, he communicated with me daily to let me know the timeline of the project and next steps. Gary got more than 2 days than had been accomplished in months. His open communication and professionalism saved the day. Gary even called the day after the project was complete to ask that I let him know if everything was "OK".
Gary was exceptional representative of your company. I sincerely hope this feedback makes it back to him.
Enjoy your day!
Robyn Faucy, M.S.M.
Executive Directory
Neuro Challenge Foundation for Patkinson's
722 Apex Road, Unit A
Sarasota, FL 34240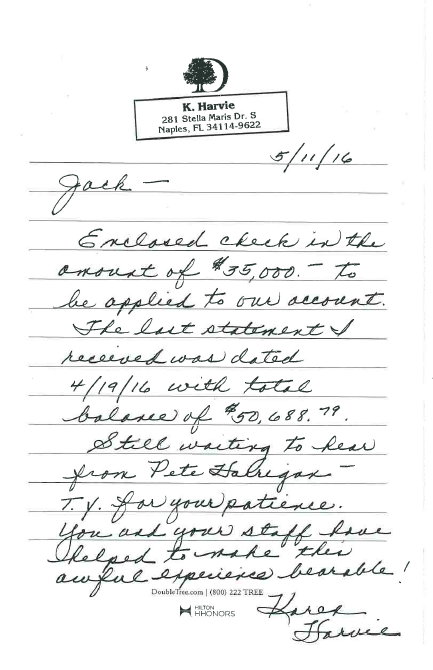 Just wanted to let you know that our service person, Ernie Torres did a wonderful job. He was professional, polite, knowledgeable and very neat. It was a pleasure working with him. You should be pleased to have him as a representative for your company.
Lee County Homeless Coalition
ServiceMaster by Wright is a Proud Member of