ServiceMaster Restorations received a call from a home owner in Fort Myers, Florida, for water damage problem. Roofers were working on an addition to a house when it started to rain, causing the rain water to come into the house and resulted to water damage. It affected the bedroom, two bathrooms, office, kitchen, utility room, two hallways and attic. ServiceMaster extracted the water from the home, removed the insulation from the attic and then started the structural drying. ServiceMaster removed and disposed all the wet carpet padding and toe kicks. Some of the drywall needed to be removed for proper drying and will be replaced. The vanities in the bathrooms and cabinets in the kitchen were damaged and removed. The technicians applied antimicrobial solution to avoid mold growth. Then, they set up dehumidifiers and air movers thru out the home to assist in the drying process. ServiceMaster's construction department was working with the home owner to rebuild the damaged areas. They were replacing all the drywall, baseboards, painting and all the insulation that had to be removed in the attic. New vanities were installed in the bathrooms and new cabinets in the kitchen. Also, they will be replacing the carpet padding and re-installation. ServiceMaster's carpet department will then clean and deodorize all the affected floor carpets.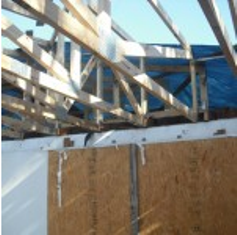 Recent Articles
The aftermath of a storm surge can be very detrimental in many ways. Along with the damages it brings in our properties, comes much bigger responsibilities for storm damage restoration. It's a prerequisite that we know how to assess well the damages incurred and the important steps that have to be taken.   Assessing and restoring your…
Customer's Feedback
Everyone who worked on my home from ServiceMaster was knowledgeable, polite, efficient and friendly. I don't remember all the names as there were many of them. They were all good at what they did. Kim was always available to coordinate everything and keep things running smoothly. We are very happy with the work that was done. This happened at a very stressful time in my life but the people at ServiceMaster made it bearable.
Thank You.
Dean & Marjorie Ellsworth Trust
I spilled wine on my couch, guys came right out and got the stain out. Great service and my couch looks brand new again. Thanks guys
Well.. it has been 3 months since our water damage / mold was discovered, and all in all Service Master has done a great job… Special thanks to Melissa, Kim, Charlie and Michael… they were most helpful in so many ways making a horrible situation become OK again. Melissa helped me when it was a devastating blow to see what all we had lost… and she helped me off the cement when I fell; Kim who helped my friend Sue hang UMPTEEN golf pictures and talked me into many things I wasn't sure of… she did a great job and we are happy; Charlie who promised me someone would be in our condo every day working… and he kept that promise; and Michael who did so many odd jobs and helped out with many, many things and was so pleasant to have in our home….
Good Morning Jim,
Thank you for your quick response to our problem yesterday.
Having worked with just about every disaster service in town, I wanted to pass along to you that your team went above and beyond with the courteous, professional and speedy service.
I look forward to working with you and Servicemaster in the future.
When I spoke to them yesterday, I advised each owner would be responsible for dry out.
I am contacting you to correct that statement.
Park Shore Tower will assume all responsibility for the extraction and dryout services.
I have emailed my insurance agent to begin the process.
I provided a detailed list of the Owners names, and all contact information to your head tech.
That way you can contact Owners directly for any repairs.
I am here at the building awaiting todays inspection. I do not know who was coming to check, but if you would be so kind as to provide him with my guard house phone number: 239-649-5015,
the guard will contact me when they arrive.
Again, Thank you.
ServiceMaster by Wright is a Proud Member of