ServiceMaster Restorations was called to a home in Fort Myers, which had water damage due to a plumbing leak from an unknown source underneath the slab. A subcontractor had hooked up to a wrong line and flooded the home. The rooms affected in the home were the bedroom, closet, den and dining room. ServiceMaster dispatched a crew right away and extracted the water from the affected rooms. In order to dry out the affected home, ServiceMaster set up dehumidifiers and air movers. Some drywall and baseboards had to be removed to help with the drying process. The laminate floor in the den was wet, the homeowner was advised that it should be removed, but did not want to remove it. The surface of the flooring dried but the underlayment and concrete were still wet. The homeowner signed a stop work order since they did not want to remove the flooring as they were advised by ServiceMaster. The technicians applied antimicrobial solution to avoid mold growth. ServiceMaster's reconstruction department went in was able to restore the home back into the condition it was in before the water damage occurred.
Recent Articles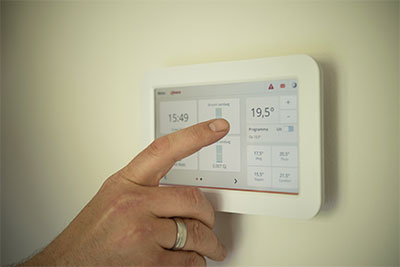 It's no news that the summer season is not yet over in Southwest Florida.  Florida has been known as the summer capital of the United States.   However, it is also known as a place where hurricanes visit due to its geographical location. Those who are heading back to the north will leave their home…
Customer's Feedback
Just wanted to let you know that our service person, Ernie Torres did a wonderful job. He was professional, polite, knowledgeable and very neat. It was a pleasure working with him. You should be pleased to have him as a representative for your company.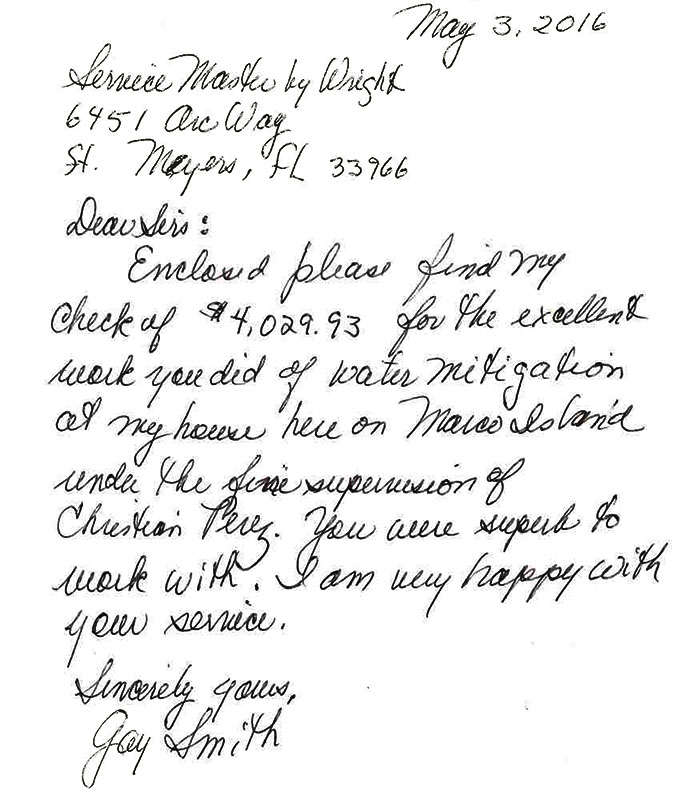 Well.. it has been 3 months since our water damage / mold was discovered, and all in all Service Master has done a great job… Special thanks to Melissa, Kim, Charlie and Michael… they were most helpful in so many ways making a horrible situation become OK again. Melissa helped me when it was a devastating blow to see what all we had lost… and she helped me off the cement when I fell; Kim who helped my friend Sue hang UMPTEEN golf pictures and talked me into many things I wasn't sure of… she did a great job and we are happy; Charlie who promised me someone would be in our condo every day working… and he kept that promise; and Michael who did so many odd jobs and helped out with many, many things and was so pleasant to have in our home….
Everyone who worked on my home from ServiceMaster was knowledgeable, polite, efficient and friendly. I don't remember all the names as there were many of them. They were all good at what they did. Kim was always available to coordinate everything and keep things running smoothly. We are very happy with the work that was done. This happened at a very stressful time in my life but the people at ServiceMaster made it bearable.
Thank You.
Dean & Marjorie Ellsworth Trust
I had suspicion of mold and contacted Service Master by Wright. They came in and discovered mold, gave an estimate and did a great job cleaning. They even had it retested after to ensure it was gone. No more mold issues! Thank you! Would refer to anyone concerned about mold. Very professional!
ServiceMaster by Wright is a Proud Member of