ServiceMaster by Wright received a call from a home owner in Naples, Florida, for water damage. The cause of the water damage was a leak in office and closet by wind driven rain through windows. ServiceMaster extracted the water from the home and then started the structural drying. The technicians set up dehumidifiers and air movers thru out the two rooms to assist in the drying process. Another source was found shortly thereafter, in the bathroom around the toilet. We had to remove base boards and drywall. Some of the drywall needed to be removed for proper drying and will be replaced at a later time. The technicians applied antimicrobial solution to avoid mold growth. ServiceMaster's construction department is currently working with the home owner to rebuild the damaged areas. They will be replacing all the drywall, baseboards, painting, etc. ServiceMaster's carpet department is cleaning the carpets that was in the office at the time of the water damage.
Recent Articles
A properly painted home will look great and will last for many years if properly maintained. While painting is a time-intensive project, the value added to your home can be immense. A great paint job not only requires attention prior to and during the interior and exterior painting process but also well after it is complete.…
Customer's Feedback
Lee County Homeless Coalition
Well.. it has been 3 months since our water damage / mold was discovered, and all in all Service Master has done a great job… Special thanks to Melissa, Kim, Charlie and Michael… they were most helpful in so many ways making a horrible situation become OK again. Melissa helped me when it was a devastating blow to see what all we had lost… and she helped me off the cement when I fell; Kim who helped my friend Sue hang UMPTEEN golf pictures and talked me into many things I wasn't sure of… she did a great job and we are happy; Charlie who promised me someone would be in our condo every day working… and he kept that promise; and Michael who did so many odd jobs and helped out with many, many things and was so pleasant to have in our home….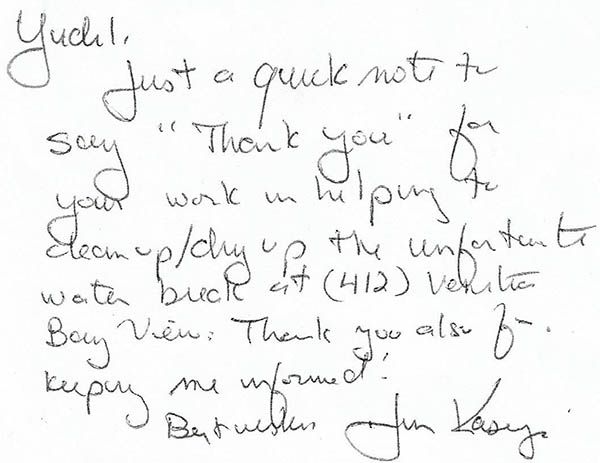 Good Morning Jim,
Thank you for your quick response to our problem yesterday.
Having worked with just about every disaster service in town, I wanted to pass along to you that your team went above and beyond with the courteous, professional and speedy service.
I look forward to working with you and Servicemaster in the future.
When I spoke to them yesterday, I advised each owner would be responsible for dry out.
I am contacting you to correct that statement.
Park Shore Tower will assume all responsibility for the extraction and dryout services.
I have emailed my insurance agent to begin the process.
I provided a detailed list of the Owners names, and all contact information to your head tech.
That way you can contact Owners directly for any repairs.
I am here at the building awaiting todays inspection. I do not know who was coming to check, but if you would be so kind as to provide him with my guard house phone number: 239-649-5015,
the guard will contact me when they arrive.
Again, Thank you.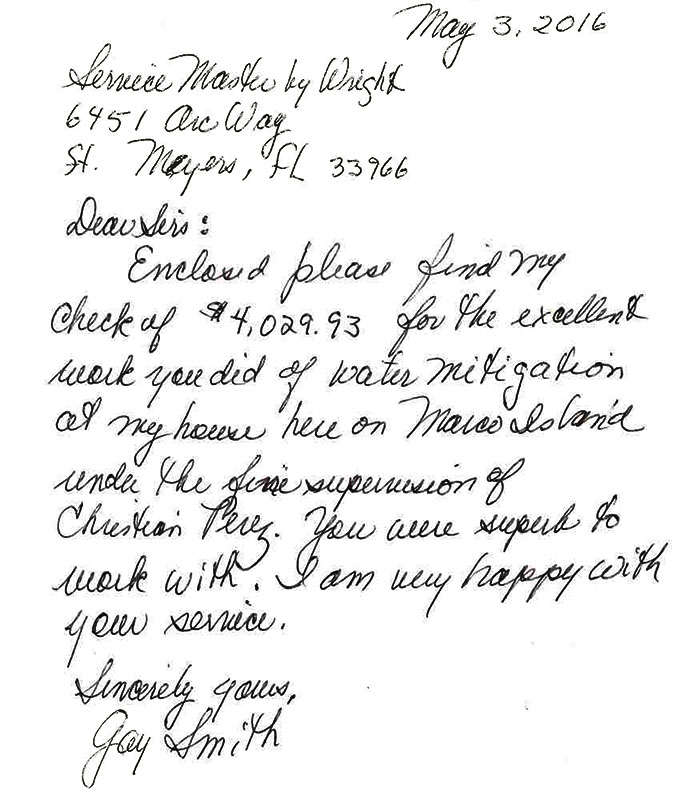 ServiceMaster by Wright is a Proud Member of