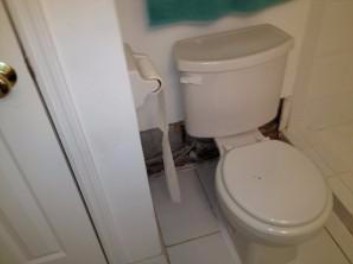 ServiceMaster Restorations received a call from a homeowner in Fort Myers, Florida, for water damage. The water damage was caused by the improper installation of plumbing in the guest bathroom. It affected the bathroom, living room, master bedroom, master bathroom, master closet, formal dining room, dining room and kitchen. ServiceMaster extracted the water from the home and then started the structural drying. ServiceMaster removed and disposed of all the wet carpet padding and drilled holes in the toe kicks. The technicians applied antimicrobial solution to avoid mold growth. The technicians set up dehumidifiers, air movers and octobags to force air into the cavities throughout the home to assist in the drying process. The vanity cabinet in the guest bathroom, where the water damage originated, was damaged and needed to be removed. In the bathroom the base was removed and the drywall and insulation below the base was removed to help with the drying out of the structure. ServiceMaster's construction department is currently working with the homeowner to rebuild the damaged areas. In the bathroom they are replacing the vanity cabinet, drywall and painting to get it back to where it was before the water damage occurred. All rooms will have the walls and base repainted as part of the repairs. They will also be replacing the carpet padding and reinstalling the carpet. ServiceMaster's carpet department will then clean and deodorize all the affected carpeting.
Customer's Feedback
Lee County Homeless Coalition

Everyone who worked on my home from ServiceMaster was knowledgeable, polite, efficient and friendly. I don't remember all the names as there were many of them. They were all good at what they did. Kim was always available to coordinate everything and keep things running smoothly. We are very happy with the work that was done. This happened at a very stressful time in my life but the people at ServiceMaster made it bearable.

Thank You.

Dean & Marjorie Ellsworth Trust

Just wanted to let you know that our service person, Ernie Torres did a wonderful job. He was professional, polite, knowledgeable and very neat. It was a pleasure working with him. You should be pleased to have him as a representative for your company.
ServiceMaster by Wright is a Proud Member of