ServiceMaster Restorations was called to a condo on Fort Myers Beach, which had water damage and mold due to a toilet line breaking and leaking while nobody was at the condo for a few weeks. When the owner returned, everything was soaked from the water and mold had started growing up the walls. The rooms affected in the condo were the bathroom, bedroom and hallway. ServiceMaster dispatched a crew right away and extracted the water from the affected condo. In order to dry out the affected condo, ServiceMaster set up dehumidifiers in the condo. A containment was set up in the affected areas to stop the spread of the mold thru out the entire condo. Crews went in and cleaned the mold and an air quality test was performed to make sure all mold had been removed from the condo. ServiceMaster removed some of the baseboard to help with the drying of the drywall. Some of the drywall had to removed, as the water damaged it and it had mold growth on it. The flooring in the condo was carpet. The carpeting and cabinets had to be removed because of the damage. Once the dryout and mold remediation was complete, ServiceMaster 's reconstruction department went in and replaced the carpeting, cabinets, and baseboards. They also replaced and painted the drywall. They were able to restore the condo back into the condition it was in before the water damage occurred.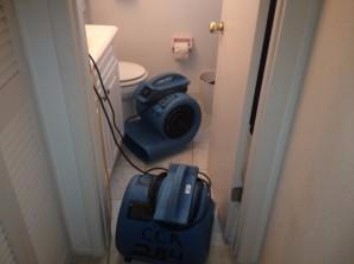 Customer's Feedback
I thought our meeting with Jonathan, Kim, Diane and you regarding our project was very productive and I believe that the resulting meeting of minds suggests that repair and remodeling should proceed successfully.

On a related subject, I want to recognize the extraordinary efforts of staff members Tony and Melissa. They were very responsive and comforting during the remediation process and, in our opinion, went above and beyond the norm to make me and my wife feel confident about the outcome of the project. They represent Service Master very well.

Well.. it has been 3 months since our water damage / mold was discovered, and all in all Service Master has done a great job… Special thanks to Melissa, Kim, Charlie and Michael… they were most helpful in so many ways making a horrible situation become OK again. Melissa helped me when it was a devastating blow to see what all we had lost… and she helped me off the cement when I fell; Kim who helped my friend Sue hang UMPTEEN golf pictures and talked me into many things I wasn't sure of… she did a great job and we are happy; Charlie who promised me someone would be in our condo every day working… and he kept that promise; and Michael who did so many odd jobs and helped out with many, many things and was so pleasant to have in our home….
ServiceMaster by Wright is a Proud Member of